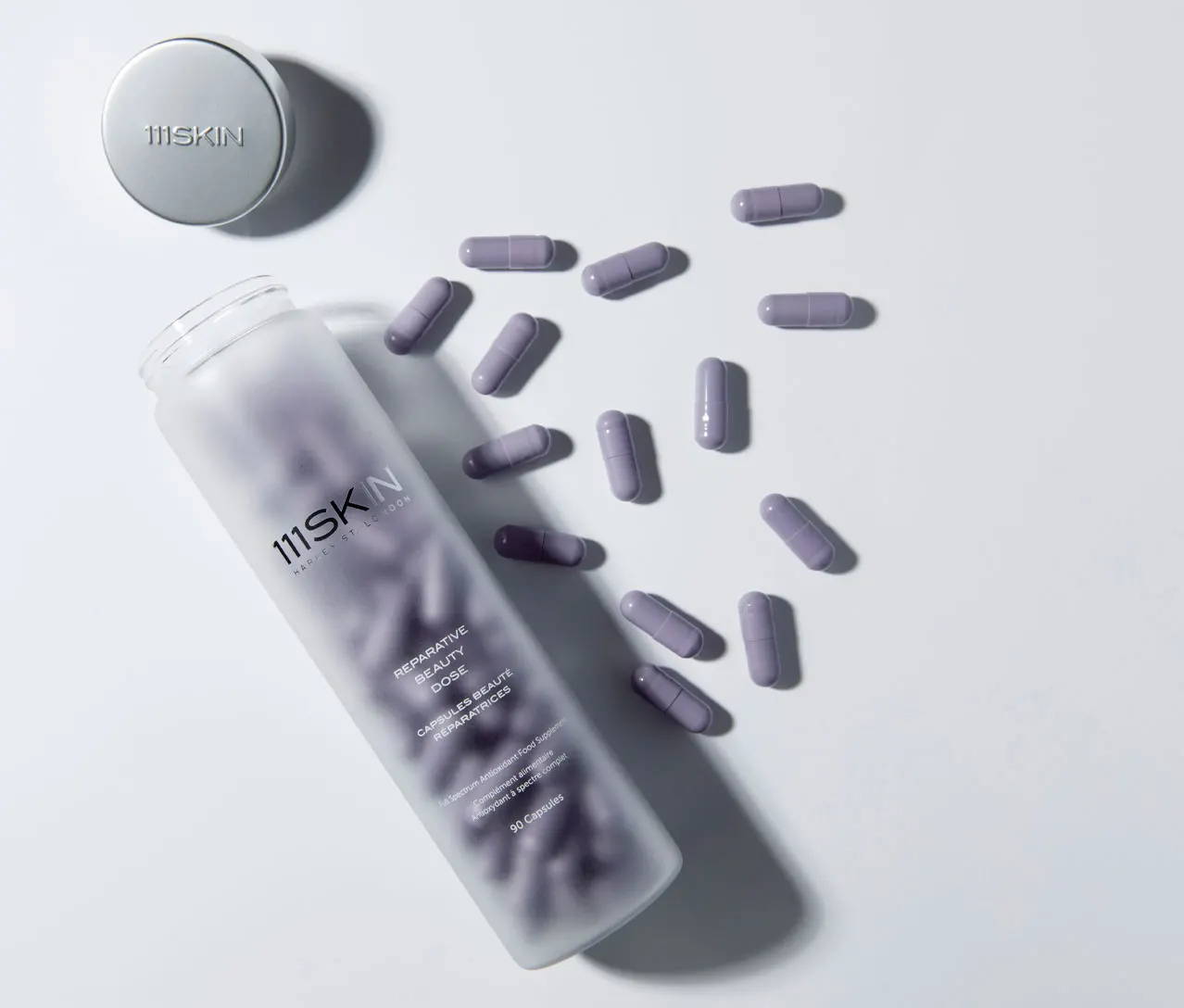 THE BIOAVAILABILITY INDEX
The Bioavailability Index
If you were to advise a London guide, what would be on your list?
Well, As I grew up in Notting Hill, it will always have my heart and if I was recommending spots in London, a wander around Notting Hill would be high up on my list. From there it would be all the best shopping destinations, the iconic private members club, Annabels, Harrods and Liberty's for any cute and unique gifts. I would always pop into 111CRYO at Harrods for the Cryo Facial and treatment for the ultimate recharge. Sometimes the city is great, but the beautiful secrets of the English countryside is something that should be experienced.
Your In-Flight Essentials?
I don't have a routine per say and I am certainly not as thorough as Naomi Campbell but I would apply the Meso Infusion Lip Duo and I would always wipe my phone down with anti-bacterial wipes, in fact I do this every day, the bacteria build up is no good for the skin.
In terms of Industry, where do you see the hair industry going?
Well Instagram has changed so much and has impacted the way we consume and learn within the industry, especially with so many creatives, but I still find that a massive amount of people come to the professionals to share the knowledge on how to carry out or complete a desired look, more than ever there is power behind 'how-to' videos.
A very valid point and in terms of 2020?
In terms of what we are to see in 2020, things are going to be super creative and we will see a wider awareness for people doing their own thing and it will be expressive and artistic. People will move away from the overtly glamorous looks and will create looks they can tailor to their everyday. As it's currently Award Season which is the busiest time of the year leading up to the Met Ball, hairstyles are certainly more elaborate, and everyone loves an up do. I would say the most timeless look has to be the blunt bob, it comes around year on year, but it is effortless and timeless.
Outside of hair, what other industries are you into?
I am hugely into Interiors and I would describe my style as 60s/70s glamour, think elaborate and dramatic but I often fantasise about 80s Dallas and Joan Collins and I have to reign myself in. I also love Baking; it is the ultimate way to relax and I find that it is my meditation and therapy. If I'm in the USA I would bake a lot of cookies as everyone is obsessed with then over here and in the UK, I would bake more traditional styles like a lemon tart or an apple tart – it allows for me to be creative outside of my job.
Finally, the best advice you have ever received?
It would have to be from my grandfather, he would often say to me "it's not how well you're doing but how well people think you're doing". I haven't successfully implemented it however you can look to Instagram today and people see our work and are blown away by it, but we can be so hard on ourselves and not appreciate our own work ourselves.
What is Bioavailability?
Bioavailability is the measurement of how easily our body absorbs a substance whether it's through an IV drip or via a supplement. Bioavailability awareness is vital to understand how quickly the substance enters the circulatory system and reaches the desired area in order for it to take on its full effect. For example, skincare actives, the target is to reach the lower epidermis whereas IV therapy, the target is to be administered directly into the veins for maximum effect.
The different types of indexes include:
INTRAVENOUS, such as IV therapy is administered directly into the veins.

SUBCUTANEOUS, such as injections is targeted directly under the skin and when injected into the tissue layer between the skin and muscle.

INTRAMUSCULAR, an injection that is delivered deep into the muscles.

SUBLINGUAL involves placing a substance underneath the tongue for absorption into the blood vessels and blood stream.

ORAL, such as supplements involves swallowing the substance and digested through the GI track.

TOPICAL, such as skincare actives work to penetrate and target the dermis for effective results.
"By injection or infusion, IV administration delivers a potent level of nutrients and hydration directly into the bloodstream for immediate absorption. Bypassing the digestive system and heading directly to the organs, IV therapy results in a 90-100% absorption rate compared to the 20-50% rate of oral consumption."
DR. YANNIS ALEXANDRIDES
At 111 Harley St., the IV Vitamin Drip treatment delivers essentials vitamins, minerals and amino acids into the blood stream for a complete mind, body and skin infusion. A targeted and bespoke blend that is mastered within the clinic replenishes hydration, encourages recovery, boosts immunity and refreshes the complexion for a full body transformation. With the treatment lasting between 1 – 2 hours and minimal to no downtime, the treatment will leave you re-balanced and rejuvenated.
Oral
Providing macro and micronutrients, supplements are changing the way we understand wellness and our internal health, according to a report provided by Goldstein Research, supplement sales are set to reach $6.8 billion by the end of 2024. Inspiring and nurturing an advanced sense of self, supplements come into your lifestyle to boost, enhance and support your gut's microflora which in turn supports a stronger skin's health. 111SKIN's supplements come as a result of perfecting the skin's ecosystem, the Reparative Beauty Dose, is formulated to support the optimal functioning of the body for a healthy and fortified complexion. A full spectrum antioxidant, it boasts of a potent yet powerful blend of ingredients from NAC, improving the masterful antioxidant, Glutathione, to helping to maintain the skin's health and vitality and achieving beautiful skin from the inside out.
Topical
Before delving into the effectiveness of topical skincare, there are two distinct meanings that need clarifying, the difference between skin absorption and penetration. When chemicals or ingredients penetrate the skin, it surpasses the stratum corneum (the outer most layer of the skin) and makes its way to the skin's deepest layers whereas when it comes to absorption, the chemicals or ingredients enter the bloodstream. In skincare particularly, it important that ingredients penetrate in order for it to do its best work in conditioning and improving the skin's function.
When it comes to absorption there are 3 ways in which the chemicals can enter into the skin, Intercellular, Intracellular and Follicular.
Intercellular – absorb through the "glue" between the cells of the stratum corneum and if oil-based passes through the lipid material for optimum absorption.
Intracellular – another route of absorption is straight through the outermost layer of the skin (usually 15-20 layers thick) and into the dermis.
Follicular – compounds in this instance can enter the skin through openings that already exist between the lower and upper levels of the skin's makeup through the pores and hair follicles. Whilst the pores and follicles only represent an estimate of about 1% of the total surface of the skin, they are less likely to be chosen avenues but there are certain molecules that can surpass the follicular route for maximum absorption.
In order to improve your product penetration rate there are various factors in which you can implement such as using Emulsions, hydrating essences and oils to activate your skin's delivery method. Similarly, exfoliating lightly with our Clinical Exfoliator, will help products such as our Y Theorem Serum, a rich, antioxidant serum help to penetrate further.