SUPERCHARGE YOUR SKIN FROM WITHIN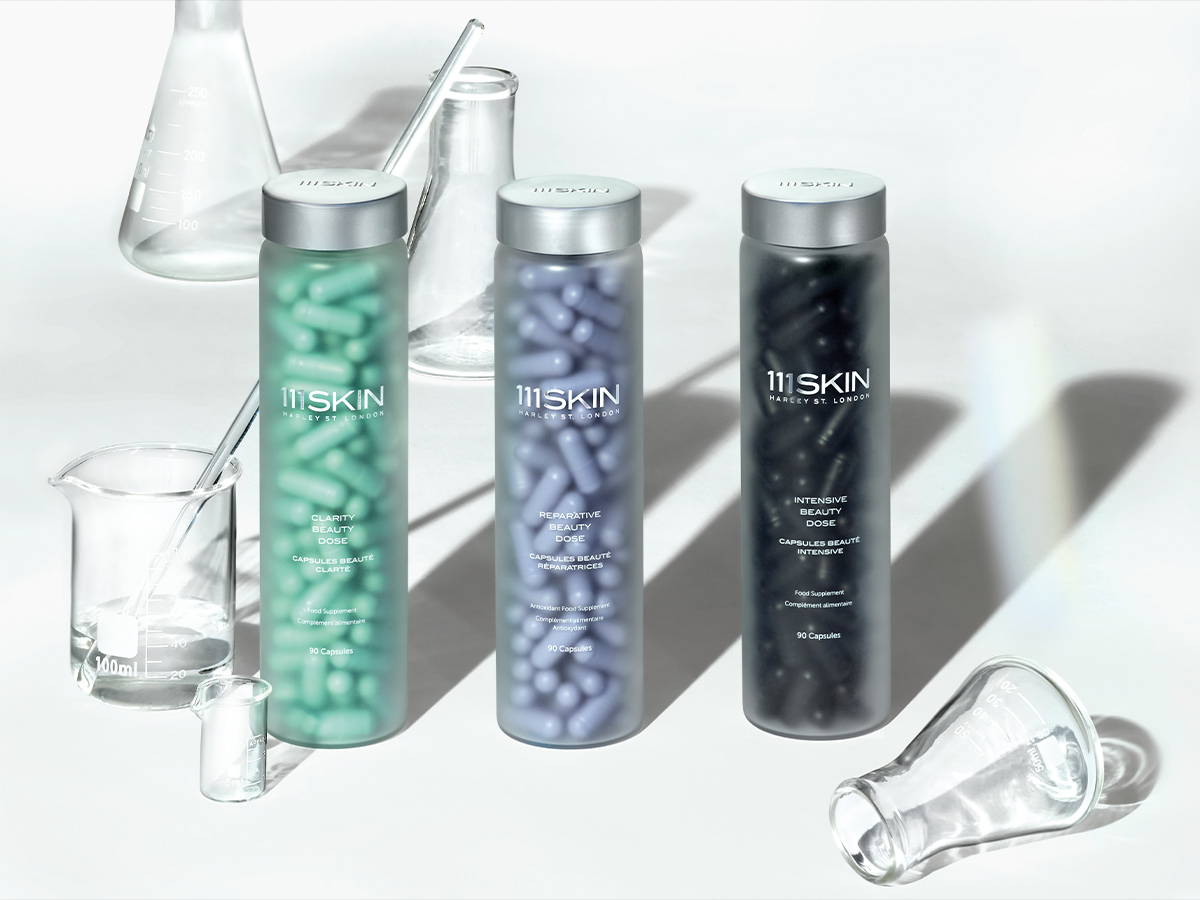 SUPERCHARGE YOUR SKIN FROM WITHIN
Environmental stressors, hormonal imbalances, and the food we eat are just some of the factors that directly impact the way our skin looks and feels. Formulated to optimise the skin's ecosystem and reverse the effects of everyday life, our Beauty Doses are made with a calming blend of vitamins, minerals and superfoods that work to detox from within.
"Supplements, through their oral bioavailability hack into the cellular ecosystem that exists between the gut and skin microbiome, and therefore, their bioactive compound makes it essential for the skin's homeostasis to be supported. Each supplement targets the main skin concerns that I see with patients in the clinic. They are the advanced solution that compliments a healthy, balanced lifestyle and skincare routine." – Dr. Yannis Alexandrides M.D F.A.C.S, Co-founder of 111SKIN
CLARITY BEAUTY DOSE Ideal for acneic or blemish-prone skin, supporting stressed cells, fortifying the body against imbalance
The Clarity Beauty dose works to detoxify and recolonise the gut with a combination of powerful digestive enzymes and probiotics. Formulated with antioxidants and a probiotic blend, the supplement works to alkalise the internal microflora and fortify the body against imbalances, resulting in clear skin that's refined in appearance.
Active ingredients: Zinc – A naturally occurring mineral that boosts your immune system
Vitamin C – Essential to the body's natural collagen synthesis
Alpha-Lipoic Acid – A vitamin-like antioxidant that's crucial to digestion
Chlorella – Freshwater algae, rich in protein that enhances immune function
Evening Primrose Extract – Reduces inflammation and calms redness
Probiotic Blend – A blend of over 2 billion prebiotic cultures that's integral to intestinal health
Digestive Enzyme Blend – A potent complex that works to brighten your complexion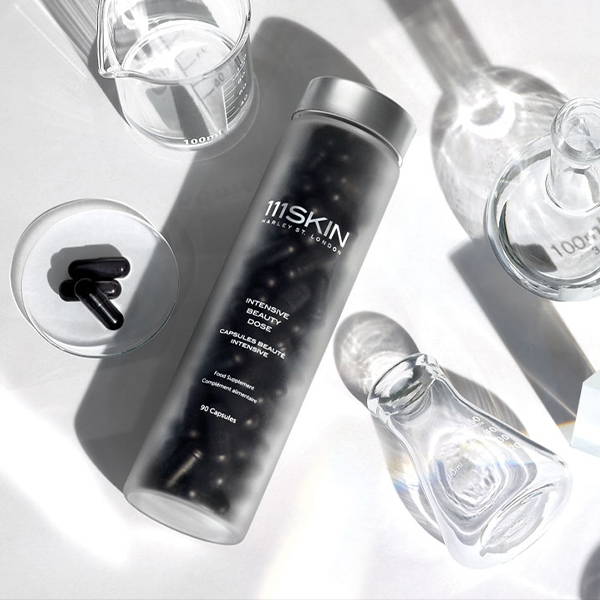 INTENSIVE BEAUTY DOSE Ideal for slowing the ageing process, stimulating collagen synthesis and strengthening cell integrity
The Intensive Beauty Dose is our transformative supplement that encourages youth in all its forms. Formulated with potent actives that work to support and strengthen lipids and ceramides, with regular use it'll help stimulate the body's collagen production and fortify the gut, resulting in healthier skin on the outside.
Active ingredients: Glutathione – Also known as the master antioxidant, helps maintain cell integrity
Vitamin C – Supports collagen synthesis and boosts immune system
Liquorice Root Extract – An antibacterial soothing agent that reduces symptoms of physical stress
Botanical Antioxidant Blend – Soothes inflammation and neutralises environmental damage Sicilian
Blood Orange Fruit Extract – A nutrient-rich antioxidant that decreases oxidative stress
REPARATIVE BEAUTY DOSE Ideal for strengthening barrier function, protecting against environmental damage and calming inflammation
The Reparative Beauty Dose is a potent blend of antioxidants and botanical ingredients that work to increase skin's collagen synthethis, combat environmental damage, calm inflammation and strengthen barrier function for skin that's stronger and more resilient.
Active ingredients: NAC – A compound of amino acids that detoxifies and neutralises the pathways involved in stress, illness and inflammatory conditions
Vitamin E – Supports cell function and keeps the immune system functioning against stressors
Vitamin A – Increases cellular turnover and maintains the health of the epidermis
Cultured Greens Blend – A probiotic superfood mix that alkalises the body's pH
L-Methionine – An amino acid that acts as an antioxidant and helps break down fats